July 4th is right around the corner, which means it's time to prepare for the best birthday party of the year. No I'm not talking about Malia Obama's, or Post Malone's, or even Mike Sorrentino's. (Although if you have the opportunity to go the "The Situation's" birthday party please take pictures) I'm talking about America's birthday, and I think if we plan it carefully we can throw her a surprise party. However, to throw a good party you need four things: Good People, Good Drinks, Good Music, & Good Decorations. We have you covered on the drinks here at Exotic Ninja and I can be hired out to sing/ beat box. (I also do weddings and Bar Mitzvahs) Unfortunately I do not know any good people so you are on your own there. But, if you follow this guide your party decorations will be literally historic.
It's with great honor that I present to you:
The Exotic Ninja's July 4th Drinking Accessories Guide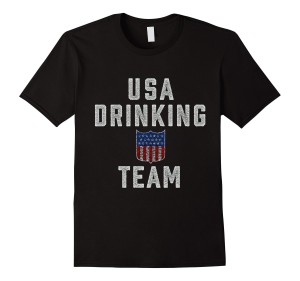 There's no better way to show up to the party than sporting an official Drinking Team USA jersey. No sports jersey has inspired more American Pride or drunken celebration since the 1980 US Olympic Hockey Team Jerseys. (Which you can still buy if you feel like paying 100$+) But why spend 100$ on one jersey when you can get yourself 6.2539086292 of these beauties for the same cost. That's enough for one of each color, and a weird 1/4 size shirt that I assume would make a good scarf! If that's not a good value I don't know what is. The shirt is also aerodynamic enough that when you drunkenly rip it off and do a sick cannonball into the pool (for America) it'll flutter in the breeze like Old Glory herself.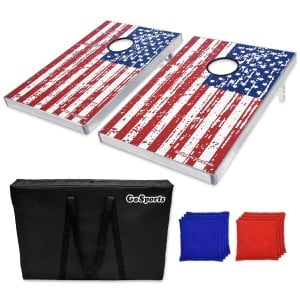 No Barbecue is complete until you destroy a cousin you haven't seen in years at bag toss. This tried and true lawn game is sure to delight your neighbors and get in the head of that old creepy communist guy down the street. While bag toss is not technically a drinking game, everyone knows you aim better with a beer in your off-hand. I also have my own set of rules for if you don't get along with your family or just don't want to remember the game. Simply take a shot every time you or your opponent make a shot. (I don't recommend playing this against sober opponents) Regardless of how you play you can be sure of one thing: every shot you take, is a shot for your country.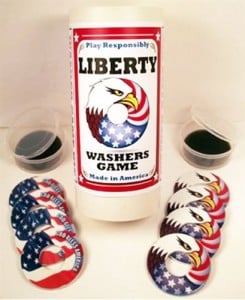 Nothing says 4th of July like this set of washers. Trashing your nieces and nephews in a game they've never played before has never felt more patriotic. My advice is to always take the set with the eagles on them, if you make your own eagle noises they fly better. My favorite part of this game is my special ninja rule. If you sneak one of your washers into the opponents goal they owe you a beer. Also if you score a point they owe you a beer. Also if they hit you wish their washer they owe you a beer. Basically expect to drink a lot. The more drunk you get the more majestic these beautiful washers look flying through the air.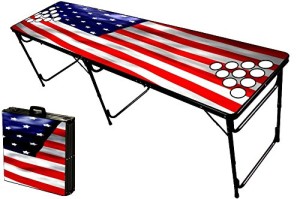 This beer pong table is the best money can buy. Not only is it well made, sturdy, and easy to transport, but this table has been a part of some of the most important moments in American history. This is the table the founding fathers used to sign the Declaration of Independence*. This is the table that Abraham Lincoln wrote the Gettysburg Address at*. This is the table where the original Supreme Court met*. This is the table Nic Cage celebrated at after stealing the Declaration of Independence*. (*Disclaimer none of these are true but you get the point right? This is one American table.) Now you can have this very table to celebrate your country.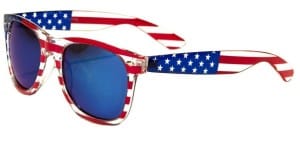 It's not the 4th of July until you're rocking a pair of American Flag shades. Nobody will look cooler or more patriotic walking away from the fireworks rocking a pair of these. (Remember the cool people don't look at the explosion)